Strong as a Tank!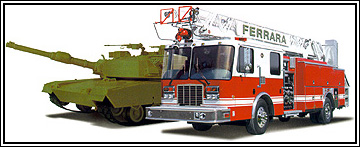 We build TOUGH trucks for TOUGH situations
It's an all out war. You against man's oldest enemy - uncontrolled fire. In your arsenal of weapons you're going to need the toughest and most rugged fire-fighting vehicle available... Ferrara. Our extruded, all-aluminum fire body, the heaviest, strongest, and most durable in industry is considered by many to be built like a tank. Unlike conventional fire apparatus builders, Ferrara continues to Lead the Way with unprecedented engineering, design, and performance. Our body sides, compartment floors, walls, ceilings, and doors are constructed from 3/16" thick, corrosion resistant 5052-H32 Marine Grade Aluminum. In an independent comparison study, Ferrara's aluminum plate proved to be stronger in overall Tensile/Load Limit, Endurance Limit and RBM (Resisting Bending Moment). All body extrusions are certified 6061T6 structural aluminum. Ferrara's massive 1/4" thick body corner extrusions coupled
with our twin-I beam subframe and heavy duty body gussets add up to a fire body of unmatched strength. This innovative design offers an unprecedented blend of durability and function.
Would you want your "TANK" to be anything less?


We're Body Builders All Bodies are Not Created Equal Strong as a Tank
The Strength is in Numbers Through-the-Tank Ladder Storage
07/21/2004 10:19:54 PM