Tankers



1750 GALLON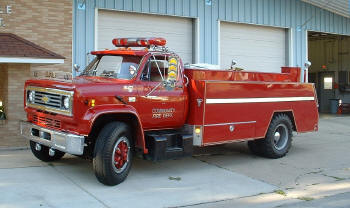 YEAR: 1985, CHASSIS: Chevy C-70, ENGINE: GM 427 V/8, TRANS: 5- Speed, 2- Speed Axle, PUMP: Portable mounted at tailboard, TANK: 1750 Gallon, MILES: 10,550, FEATURES: Rear dump, air brakes with Bendix Dryer. CONDITION: Excellent
PRICE: $25,000

350 G.P.M. PTO / 1250
E-ONE
YEAR: 1985, CHASSIS: GMC, BODY: E-One, ENGINE: GM 427 V/8, TRANS: 5-Speed, PUMP: Hale 350 G.P.M. PTO, TANK: 1250 Gallon Aluminum, MILES: 14106, CONDITION: Excellent
PRICE: $ 27,500.00
250 G.P.M. / 1450 GALLON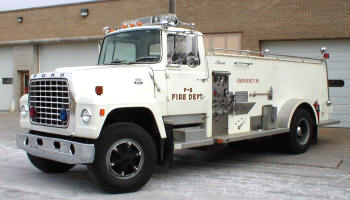 YEAR: 1980, CHASSIS: Ford L-900, BODY: Alexis, ENGINE: Ford 477 V/8 Gas, TRANS: Allison MT643 Automatic, PUMP: Hale 250 G.P.M., TANK: 1450 Gallon Re worked 1997, DUMP: 10" REAR FILL: 6", MILES: 15,000, LENGTH: 26' 1", HEIGHT: 9' 8", FEATURES: New rear tires , front tires replaced 1997, 1500 gallon potable tank, AVAILABLE SUMMER 2003. CONDITION: Excellent
PRICE: $22,000.00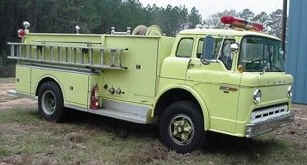 YEAR: 1980, CHASSIS: Ford F-800 , BODY Barnett, ENGINE: Ford 429 V/8 Gas, TRANS.: 5-Speed Direct, PUMP: 350 G.P.M. P.T.O., TANK: 1250 Gallon. MILES: 11,500, FEATURES: Booster reel, 24' extension, 12' roof, 10' attic ladders, 3- 2 1/2" hard suction, 2- axe, 6', 10' pike poles, 2- extinguishers, 1- pry bar, telescoping flood lights. CONDITION: Excellent
PRICE: $14,300.00

300 G.P.M. / 4,000 GALLON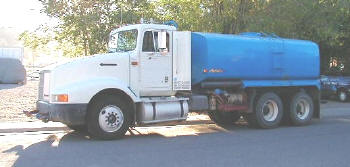 YEAR: 1994, CHASSIS: International 9400 Series tall section steel frame, EX heavy haul tractor, with 4 bag air ride suspension, BODY: United, ENGINE: Detroit Series 60 430 H.P. New rods and mains 5K, TRANS: 8-Speed with double low and OD, PUMP: Berkley 300 G.P.M. Hydraulic, TANK: United 4000 Gallon 1997, MILES: 615,000, FEATURES: Jake brake, A/C, Cruise, am/fm, 2- air seats, CB, dual 100 gallon fuel tanks, 4 bag air ride suspension, 2" trailer receiver hitch and lights, 22' hard suction with 3" W/cam locks, hose reel with 100' X 1 1/2" hose, 6- cab controlled water spray heads and air shift PTO, 4" quick dump rear, lots of Brass fittings and adapters, rolls of hose 2 1/2", 1 1/2" 1", under bed locking tool box 36", USFS SPEC EQUIPMENT: Motorola programmable radio, all hose adapter hydrant wrench, shovel, Pulaski, fire shelters, fire extinguisher, reflectors, spare tire, wheel chocks.
PRICE: $ 46,200.00

Used Apparatus Inquires
Home: 336-871-2792
03/14/2005 18:01
DISCLAIMER
INFORMATION AND SPECIFICATIONS PROVIDED ARE BASED ON DATA FURNISHED TO Taylor's Apparatus Sales and B & P APPARATUS INC. BY THE OWNERS OF THE APPARATUS. Taylor's Apparatus Sales & B & P APPARATUS INC. DISCLAIMS ANY LIABILITY FOR THE ACCURACY OF SPECIFICATIONS, CONDITION OR EQUIPMENT FURNISHED WITH THE APPARATUS. ALL VEHICLES ARE SOLD "AS IS", WITH NO WARRANTIES OR GUARANTEES, EXPRESSED OR IMPLIED. ALL UNITS ARE SOLD UNDER C.O.D. TERMS ON A FIRST COME, FIRST SERVE BASIS, THESE UNITS MAY BE RESERVED WITH A NON-REFUNDABLE DEPOSIT OF 10% OF THE SELLING PRICE.